What You Can See on Your Grand Teton Float Trips
Grand Teton National Park is home to the greatest variety of wildlife in the lower 48 states. The Snake River serves as a lifeline to bison, elk, moose, beaver, pronghorn, deer, bear, cougar and more than 300 different species of birds, including osprey and eagles.
The river bottom offers a variety of habitats that animals love: lush willows to feed on, deep-water pools to swim in, and groves of aspen to wander. And although we can't guarantee multiple animal sightings, your chances are greater here, in the heart of the National Park.
Many of these photos were taken by clients on our scenic Grand Teton float trips. Please share your float trip photos with us, or post them on Instagram using the hashtags #barkerewingfloattrips, #barkerewingscenic and #BESTscenicfloattrips.
Bald Eagle
A common sight along our stretch of the river, thanks to the abundance of tasty trout!
Moose
A moose and her calf crossed the river right in front of us as we floated around the bend.
Grand Tetons
The majestic Grand Tetons and the Snake River are the heart of Grand Teton National Park.
Bison
A solitary bison posed for our cameras, and seemed completely unperturbed by our presence.
Black Bear
This shy little black bear was doing his best to hide from us in a giant cottonwood tree - without success!
Beaver
Nearly wiped out by fur trapping in the 19th century, beavers have made an amazing recovery in recent decades.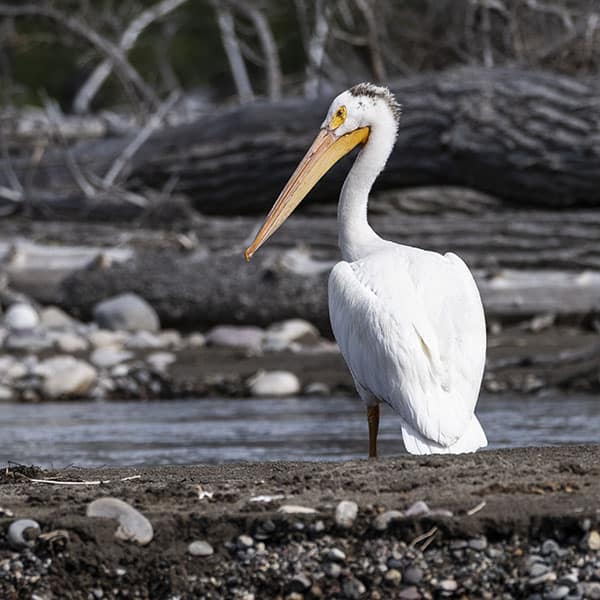 White Pelican
We see lots of pelicans along the Snake River - probably because the fishing is so great!
Cougar
What a thrill to watch this mountain lion swim the river from the safety of our raft. A rare sighting of this elusive cat.
Wildflowers
Wildflowers like this Larkspur provide beautiful splashes of color all along the river bank.
River Otter
Otters can be hard to spot - while we're floating downriver, they're often swimming the "otter" way.
Grey Wolf
Another conservation success story that we're lucky to encounter along the river.
Coyote
One of the most widespread species in North America, a wily coyote was recently sighted in the Bronx!
Elk
About 1,600 elk spend the summer in Grand Teton National Park. It's always exciting to see them on the river.
Osprey
Osprey are fishing birds, and are a fairly common sight along the river.
Blue Heron
Herons, egrets, Sandhill cranes and Trumpeter swans can often be seen on the Snake.
Grizzly Bear
This grizzly took a long look at us over his shoulder as he climbed up the river bank before disappearing into the tall timber.
Mule Deer
Muledeer and White-tailed deer often join their cousins, Elk and Moose, along the river.
Pronghorn
The fastest land mammal in the Western hemisphere, and not actually an antelope. Speed goat!