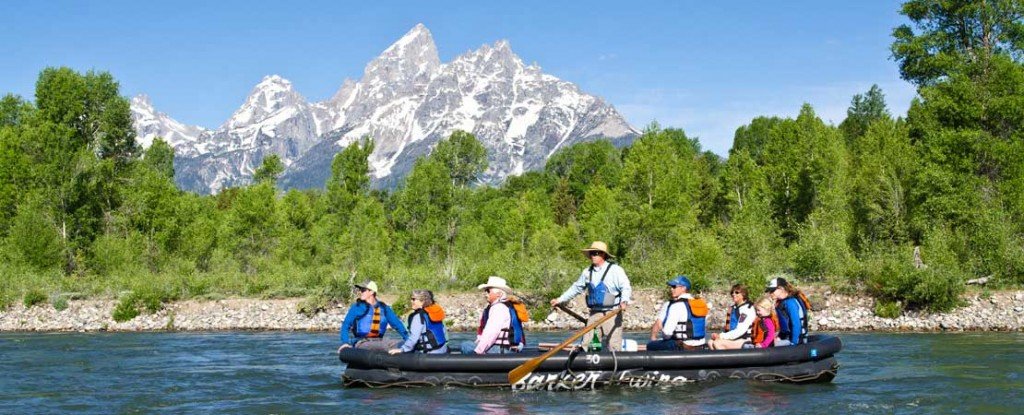 Barker-Ewing 10-Mile Classic Scenic Float Trip in Grand Teton National Park
Rates
Adults
Children (6-15)*
10-Mile Classic Scenic Float Trip
$100
$70
*All passengers must be at least 6 years old and 50 lbs.
Spectacular Scenery. Thrilling Wildlife. Fascinating History.
Let Barker-Ewing guide you down the Snake River through the heart of Grand Teton National Park. You'll float from historic Deadman's Bar to Moose Village, along the most scenic stretch of river in the entire valley. It's the BEST Snake River Rafting in Jackson Hole. Get ready for the trip of a lifetime!
What to Expect: Snake River Rafting in Jackson Hole
Pick-up and Drop-off in Moose, Wyoming (see Where to Meet).
2 1/2 to 3-hour Round Trip River Experience.
Expert River Guides with In-Depth Knowledge.
Six Decades of Safe and Scenic River Tours.
Daily Departures from May through September. Planning on visiting before May 27th or after September 16th? Please call us to book your float trip.
24-hour cancellation policy.
All outdoor activities carry some risk. Although we have provided safe, exciting river trips for well over 600,000 clients, you as a participant must acknowledge and assume the inherent risk. Our insurance company requires all adult passengers and parents or guardians of minor children under the age of 18 to sign an Acknowledgment of Risk form prior to departure.